Profile shear with large blade opening, ideal for cutting over thickening of the material. Up to 2.0 mm steel (eg ribs in cable ducts and overlaps), U-, C- and L-profiles and spark-free cutting for use in explosion hazardous areas.
The universal cutting device for the electrical installation, recycling, appliance and switch cabinet construction.
Super-fast cutting, shortening or trimming of cable trays, switch boxes, metal-stud profiles, steel profiles, cover caps, spiral- and seam-folded tube.
cuts without distortion or straightening of formed parts
burr free cutting
no finishing of the edges is required
accurate cutting along a marked line
single-side trimming is possible
working speed up to 9 m/min
cutting of U-,C- and L-profiles
clear view to scribed line or template
long life tool
easy, one hand, operation
simple and safe to use
low air consumption
ideal for application in hazardous areas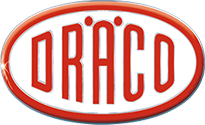 Since 1951, DRÄCO has been a partner to the trade and industry, clients require the same quality and service they expect of themselves. Quality products, quality control, customer feedback, and practical testing form the basis of their brand's philosophy.