The PROFI FORM K 25 Arch Bending Machine has been developed for curving profiled standing seam roofing panels produced with any Pan former. Profile heigth 1″ (25 mm).
Profiled panels from 240 mm (9.5″) to 780 mm (30,5″) in width can be curved to a minimum radius of 600 mm (23″) in one pass. All adjustments are positioned to one side of the machine with vernire scale accuracy for uniform pressure adjustments.
The PROFI FORM K 25 is the ideal machine for fast curving of profiled panels for arches, domes, dormer, barrel vaulted roofs etc. Produces curved panels, flat to curved and curved to more curved, plus tapered panels in two operations.
Four castors are mounted to the frame for easy transportation.
The Arch Bending Machine will be delivered with a variable speed control (type K25-RBPE). The working speed can be adjusted from 2-12 m/min., for effective working in curving long panels.
Older DRÄCO Arch Bending Machines can be refitted in the factory and equipped with the variable speed control (K25-RSD).
easy to handle
no damage to painted or coated sheets
completely equipped , no options or extra's necessary
ergonomic working height
exact pressure control (1/10 mm)
swiveling material inlet
including emergency stop switch
The round arch machine Profiform 25-RBPE is equipped with a speed controller for stepless working speed of 2-12 m / min. equipped. With changing radii or long shares can therefore be worked with variable speed. Older machines can be retrofitted at the factory (Speed ​​control K25-RSD, Item No. 91477)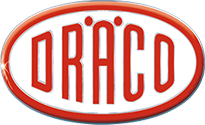 Since 1951, DRÄCO has been a partner to the trade and industry, clients require the same quality and service they expect of themselves. Quality products, quality control, customer feedback, and practical testing form the basis of their brand's philosophy.