Cold cutting without sparks. This profile nibbler is ideal for cutting and cutting roof sheet and sheet pile profile (up to 1.6 mm), even at the bottom of the profile, e.g. to cut holes for roof drains etc. Machine cuts over corners, edges and double plate (max capacity) into narrow inner corners. Optimized chip removal downwards guarantees a free, unobstructed view of the work surface or crack. Die and punches are easy to replace and grind. Incision-resistant cut across edges, seams and overlapping sheets to tight corners.
Ideal for:
halls, factories, roof and wall in corrugated materials
roofers
shop installation, etc.
The 12 Volt cordless nibbler 5-pcs. craftsmen set consists of: 1 cordless shear AK 3161 Ni-Mh, 2 batteries MXL12, 1 charger RC and 1 transport box.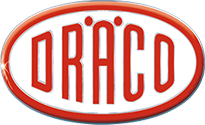 Since 1951, DRÄCO has been a partner to the trade and industry, clients require the same quality and service they expect of themselves. Quality products, quality control, customer feedback, and practical testing form the basis of their brand's philosophy.