Draco Cordless Nibbler AK 3200 Ni-MH
portable easy operation
hollow round punch for 360 degree movement (rotation on the spot)
high capacity with burr-free cut quality
fast, safe cutting of all materials that can be punched, such as mild steel, stainless steel, aluminum, non-ferrous metals and plastics
rotating tool system allows changing cutting direction
cold, fume-free cutting
long tool life
regrindable, easy to change tooling
ideal tool for internal cut-outs
single-hand working to scribed line, or to a template
Ideal for:
control cabinet fabrication
ventilation system fabrication
air duct construction and installation
boat and ship builders lighting fixture construction, etc.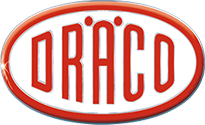 Since 1951, DRÄCO has been a partner to the trade and industry, clients require the same quality and service they expect of themselves. Quality products, quality control, customer feedback, and practical testing form the basis of their brand's philosophy.