to make a clean bend at drip edges without leaving marks.
bends over 90° because of its wide opening
it is also possible to bend a flat-seamed standing seam around and under the drip edge
Further processing with eave closer K12 to close the eave completely.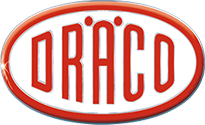 Since 1951, DRÄCO has been a partner to the trade and industry, clients require the same quality and service they expect of themselves. Quality products, quality control, customer feedback, and practical testing form the basis of their brand's philosophy.