The blades of these shears are especially for working stainless steel up to 1,5 mm (800N/mm²). This machine is particularly suitable for the discerning stainless steel processor (for example food service, catering equipment and large-scale kitchen, handrail and staircases, thermo products and chemical and pharma plants) and in the finishing process.
Due to the high capacity also ideal for shortening UA reinforcement ribs (2.0 mm metal stud). The cutter works without sparks (saves the dangerous work with the angle grinder) and can therefore also be used in the building. No deformation of the profile and no burr formation.
The assembly in the vise is made possible by means of flat sides on the shear head. Knives and jaws (side knives) can be reground.
Ideal for:
stainless steel workshops
kitchen and cabinet workshops
ship and boat builders
metals studs up to 14 ga.
etc.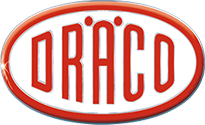 Since 1951, DRÄCO has been a partner to the trade and industry, clients require the same quality and service they expect of themselves. Quality products, quality control, customer feedback, and practical testing form the basis of their brand's philosophy.