The basic model Profima K25-PFR / 800 is designed for use on the construction site or in the workshop.
All functions can be operated from one side. The Profima is mobile and can be lifted on a roof by means of the 4 hanging eyes.
The adjustable legs are height-adjustable and can be adjusted to the roof pitch.
The PROFIMA – 25 is a fully mobile pan former ideal for both the workshop and for on-site operation.
All functions and adjustments are positioned to one side of the machine. It is easy to transport, light weight with two castors mounted on frame. This saves on freight costs, shortages and the need for difficult leak prone panel end laps.
equipped with 4 crane lifting eyes.
The PROFIMA – K 25 produces standard 25 mm seam height panels in widths from 290 mm up to 800 mm plus tapered panels.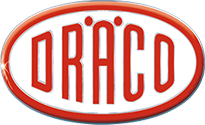 Since 1951, DRÄCO has been a partner to the trade and industry, clients require the same quality and service they expect of themselves. Quality products, quality control, customer feedback, and practical testing form the basis of their brand's philosophy.