The K25-PQLB / 800 version is already equipped with three options and is designed for plumbers and roofers for use in the workshop, on the construction site or on the roof. Single-sided, conical or pointed jobs can be profiled without conversion. The corresponding track width can be set with the aid of a handwheel. All functions can be operated from one side. The Profima is mobile and can be lifted on a roof by means of the 4 hanging eyes. The adjustable legs are height-adjustable and can be adjusted to the roof pitch.
The K25-PQLB includes:
Mechanical length measuring device, K25-MV: automatically switches off the profiling machine when the set size is reached.
Guillotine shear, K25-QMT: cuts the roofing sheets at the outlet. This allows extremely short jobs to be profiled.
Slitter shear K25-BSEW with material guide: to slit material at the entrance for pass tracks.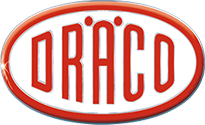 Since 1951, DRÄCO has been a partner to the trade and industry, clients require the same quality and service they expect of themselves. Quality products, quality control, customer feedback, and practical testing form the basis of their brand's philosophy.