This single-sided profiling machine is particularly suitable as a versatile beginner's model or as an addition to an existing profiling machine.
Pointed, pass and conical tracks in any desired width from 50 mm up possible.
Machine movable according to wheelbarrow principle. Easy to maneuver and therefore space saving.
The VARIO PROFI 25 has been designed to form under cloak or over cloak (female and male) profiles on pre-cut and shaped panels, one side at a time. This allows straight and tapered panels to be formed with different profiles, down to the smallest width of 50 mm (see "Panel Variations"). Pan former VARIO PROFI 25 is able to produce panels from 50 mm min. to any width.
The VARIO PROFI 25 is equipped with 2 castors, 2 crane lifting eyes and control box. Working height 80 cm, therefore easy access to left and right forming stations.
forming on one side only, fast and without any adjustments.
no width adjustments necessary.
tapered panels down to width 50 mm/2" .
seam height 25 mm/1".
easy to transport from workshop to site.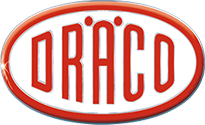 Since 1951, DRÄCO has been a partner to the trade and industry, clients require the same quality and service they expect of themselves. Quality products, quality control, customer feedback, and practical testing form the basis of their brand's philosophy.