Draco Universal Shears UVS-1
With the UVS-1 you can cut metals + plastics. From cardboard tubes (6 mm), gasket material, cardboard corner protectors and hard floor coverings e.g. in buses to thin sheet iron. The track scissors with its double-sided cutting system can cut very short curves – left or right – and achieve a minimum inner radius of 30 mm in plastic or 50 mm in metal (depending on the material).
Knives and jaws (side knives) can be reground.
Optional accessories are line cutters for cutting parallel strips up to 100, 250 or 500 mm.
Line cutter S/01 for metal and S/02 for plastics.
cuts without distortion or straightening
burr free cutting
no finishing of the edges is required
accurate cutting along a marked line
single-side trimming is possible
working speed up to 9 m/min
clear view to scribed line or template
long life tool
easy, one hand, operation
simple and safe to use
insulated and suppressed motor
all purpose use for different materials
short curves possible
acoustic ceiling metal tiles, lighting fixtures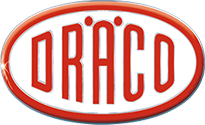 Since 1951, DRÄCO has been a partner to the trade and industry, clients require the same quality and service they expect of themselves. Quality products, quality control, customer feedback, and practical testing form the basis of their brand's philosophy.