Two forming stations for single lock seam on walls, façades and barrel curved roofs. Minimum radius 0,6 meter.
Switch for forward and reverse allows running up and down the seam for one man operation. sheet metal, aluminium, copper, zinc weathered or coated up to 0,8 mm; stainless steel up to 0,5 mm
adjustable for seam heights 25-60 mm
clean transition at cross seams by using variable pressure adjustment K9-ASS; also necessary for harder materials
working speed up to 13 m/min. up the wall and on the roof
light weight, only 16 kg
Forward and backword working!
Enormous time savings
No unnecessary or additional ways
Iron sheet, aluminum, zinc and copper up to 0.8 mm. V2A up to 0.5mm
Coated and uncoated shares are closed without damaging the surface
Profile heights from 25 mm to 60 mm
Speed ​​at roof and facade: 5.5 – 13 m / min
Smooth transitions at clips and cleats and even in cross-fold overlaps through the use of cup spring technology (the K9-1-GWS adapts to the thicknes of the seam)
Can be used in the middle of the fold and also removable
Works vertically on the facade
Cable remote control optionally available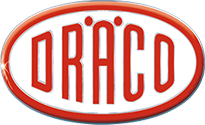 Since 1951, DRÄCO has been a partner to the trade and industry, clients require the same quality and service they expect of themselves. Quality products, quality control, customer feedback, and practical testing form the basis of their brand's philosophy.