Draco Cable Pipe HDPE Slitter 3500
Ideal for cutting open plastic pipes and plastic tanks in longitudinal and transverse directions. Cutting capacity in HDPE up to a wall thickness of 6 mm. With the small knife depth, there is no damage to the internal logistics or cables.
Stationary work is possible by clamping the flat sides of the shear head in the vise.
Strip cutters in lengths of 100, 250 and 500 mm are optionally available.
Also ideal for waste disposal and low–residue emptying of tanks and barrels.
cutting capacity in plastics up to 6 mm material, for example: HDP pipes
easy, one hand, operation
simple and safe to use
insulated and suppressed motor
accurate straight cutting due to guide pin
clear view to scribed line or template
long life tool
low maintenance
knife does not damage fibre optic cables
straight longitudinally cuts due to guide pin behind the knife
Also available:
 18 volt cordless version AK 3000 Li-Ion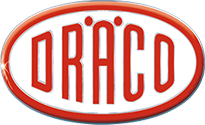 Since 1951, DRÄCO has been a partner to the trade and industry, clients require the same quality and service they expect of themselves. Quality products, quality control, customer feedback, and practical testing form the basis of their brand's philosophy.