up to 2.0 mm, or 4×0.75 mm steel
Cold cutting without flying sparks! Ideal for cutting recesses in spiral ducts and sheets of all kinds. Cuts straight and tight radii in sheets and even over seams.
Ideal for air and climate technology, installation companies, truck workshops, metalworking companies etc.
Round holes in (spiro) tubes, connections in (spiro) tubes, splitting of(spiro) tubes, aluminum tear sheet processing.
5-pcs. craftsmen-set consisting of shear AK 3514-7R Li-Ion with a 30 min. charger CLi, 2 batteries (2.0+4.0 Ah) in a transport box.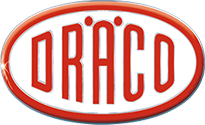 Since 1951, DRÄCO has been a partner to the trade and industry, clients require the same quality and service they expect of themselves. Quality products, quality control, customer feedback, and practical testing form the basis of their brand's philosophy.