After closing the single seams with the DRÄCO flap locker K 8, the double lock seam can be closed in one pass with the DRÄCO Double Lock Hand Seamer K7.
Ideal for whole roofs, start and end connections or starting for electrical Power Seamer.
Sheet iron, aluminum, copper and zinc can be threaded to a thickness of 0.8 mm. In stainless steel the maximum thickness is 0.5 mm.
no marks on painted or coated profiles due to special hook locators
quick, effortless folding
all parts are rust-free and interchangeable
easy to use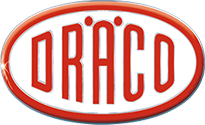 Since 1951, DRÄCO has been a partner to the trade and industry, clients require the same quality and service they expect of themselves. Quality products, quality control, customer feedback, and practical testing form the basis of their brand's philosophy.