Draco K1-CW/100 Decoiler
Mobile, with 5-armed reel, incl. 2 swivel castors and 2 fixed castors.
Characteristics
decoiler K1-CW with core, two steering and two parking castors
core has five adjustable arms, avoiding marks, dents or scratch marks, when the coil is clamped or ecoiled
core inside diameter K1-CW/100: Ø 230-510 mm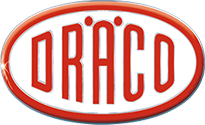 Since 1951, DRÄCO has been a partner to the trade and industry, clients require the same quality and service they expect of themselves. Quality products, quality control, customer feedback, and practical testing form the basis of their brand's philosophy.