This power seamer for standing seam panels combines new and already DRÄCO patented functions together.
Standard with variable speed (ideal in combination with the optional winter set at very low temperatures), forward and reverse running.
Optional cable remote control available, ideal for comfortable closing on facades.
Optional automatic stop at the end of the panel.
The K9-1 closes sheet metal, aluminum, zinc and copper up to 0.8 mm and stainless steel up to 0.5 mm.
for double lock seaming in one pass
two additional rolls K9-WR for single lock seaming are optional available
sheet metal, aluminum, copper, zinc weathered or coated up to 0,8 mm; stainless steel up to 0,5 mm
adjustable for seam heights 25-60 mm
clean transition at cross seams by using variable pressure adjustment K9-1-ASS
working speed 5,5-13 m/min. up the wall and on the roof
maintenance-free, safe operation
no damage to painted or coated sheets
can be used or removed in the middle of a seam (preliminary hand-seaming required)
accessory: dual safety switch for safe operation at the wall and roof. The Power Seamer stops automatically at the end of the seam, against a wall or obstruction
barrel curved roofs can be seamed using single or double lock system to the minimum radius 1,2 m
seam cutting can be accomplished by using the optional cutting rolls K9-1-AR for roof and wall renovation and repairs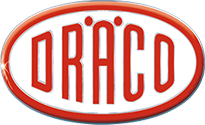 Since 1951, DRÄCO has been a partner to the trade and industry, clients require the same quality and service they expect of themselves. Quality products, quality control, customer feedback, and practical testing form the basis of their brand's philosophy.