Draco Plastic Shear 3550, 500 Watts.
Splinter-free cutting of many plastic plates such. Pk-Tex, Textolite, Formica, Perstorp, Ultrapas, esopal, Celamin, Hornitex, Getalit, Novatex. Thermopal, Tacon, etc. **
Fiber-free and low-dust cutting of hardboards, Pavatex, Renovite, cardboard, Masonit, Silvacolor, Hornitex, Glasal, etc. **
In addition, cold cutting of inlaid, linoleum, veneer, etc., Deliflex, linoleum, Mipolam, PVC, glass fiber reinforced polyester (dust-free!), Etc. **
NO PLEXIGLAS **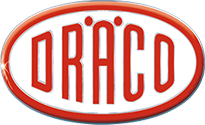 Since 1951, DRÄCO has been a partner to the trade and industry, clients require the same quality and service they expect of themselves. Quality products, quality control, customer feedback, and practical testing form the basis of their brand's philosophy.