Draco Plastic Shears S1002N-1
especially for plastics
Ideal for use in interior design, decor construction, window dressing, trade fair construction, aircraft construction, body construction, acoustics, joineries and much more.
Splinter-free cutting of all plastic sheets such as Pk-tex, Textolite, Formica, Perstorp, Ultrapas, Resopal, Celamin, Hornitex, Getalit, Novatex, Thermopal, Tacon etc. **
Fiber-free and low-dust cutting of hardboard, Pavatex, Renovite, cardboard, Masonit, Silvacolor, Hornitex, Glasal etc. **
In addition, cold cutting of Inlaid, linoleum, veneer, Deliflex, Mipolam, PVC, glass fiber reinforced polyester (low dust!) etc. **
** NO PLEXIGLAS! **
flush trimming of projected edges with side guide
cutting of strips and edge-bands
NO PLEXIGLAS !
easy, one hand, operation
simple and safe to use
insulated and suppressed motor
motor with a protective switch (S1002N)
accurate cutting along a marked line
clear view to scribed line or template
long life tool
can cause no injury while in motion
knives and jaws can be exchanged or re-sharpened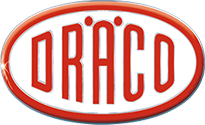 Since 1951, DRÄCO has been a partner to the trade and industry, clients require the same quality and service they expect of themselves. Quality products, quality control, customer feedback, and practical testing form the basis of their brand's philosophy.