Draco Pneumatic Plastic Shears 1950
especially for plastics
Ideal for use in interior design, decor construction, window dressing, trade fair construction, aircraft construction, body construction, acoustics, joineries and much more.
Splinter-free cutting of all plastic sheets such as Pk-tex, Textolite, Formica, Perstorp, Ultrapas, Resopal, Celamin, Hornitex, Getalit, Novatex, Thermopal, Tacon etc. **
Fiber-free and low-dust cutting of hardboard, Pavatex, Renovite, cardboard, Masonit, Silvacolor, Hornitex, Glasal etc. **
In addition, cold cutting of Inlaid, linoleum, veneer, Deliflex, Mipolam, PVC, glass fiber reinforced polyester (low dust!) etc. **
** NO PLEXIGLAS! **
Air consumption at 6 bar / min: 0.18 m3
Motor rated power: 200 watts
Noise level: 78.2 db (A)
Shear head identical to S1002N-1
Also available as:
230 Volt electrical version S1001N
12 Volt battery version AK 3002
Attachment for the drill version typ ll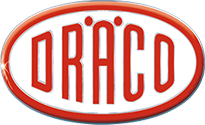 Since 1951, DRÄCO has been a partner to the trade and industry, clients require the same quality and service they expect of themselves. Quality products, quality control, customer feedback, and practical testing form the basis of their brand's philosophy.