Up to 2.0 mm sheet steel.
The universal cutting device for the electrical installer, apparatus and control cabinet construction. The solution for cutting cable trays, cable tray lids, cable ladders, trapezoidal profile rungs, cable protection channels, stiffening UA profiles, wide span beams, cassettes, panels etc. The profile shears effortlessly cuts across angles and profiles.
The cutter works without sparks (saves the dangerous work with the angle grinder) and can therefore also be used in the building. No deformation of the profile and no burr formation.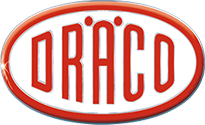 Since 1951, DRÄCO has been a partner to the trade and industry, clients require the same quality and service they expect of themselves. Quality products, quality control, customer feedback, and practical testing form the basis of their brand's philosophy.