Draco Profile Metal Shear 3520
up to 2.0 mm sheet steel
The universal cutting device for the electrical installer, apparatus and control cabinet construction. The solution for cutting cable trays, cable tray lids, cable ladders, trapezoidal profile rungs, cable protection channels, stiffening UA profiles, wide span beams, cassettes, panels etc. The profile shears effortlessly cuts across angles and profiles.
The cutter works without sparks (saves the dangerous work with the angle grinder) and can therefore also be used in the building. No deformation of the profile and no burr formation.
Ideal for:
all installation shops, examples: cable trays, coated cable trays, cable ladders, spiral tubing, mesh and wire
shop installation
for heating and ventilating
ventilation system fabrication, partitions
construction-plants,
etc.
cuts without distortion or straightening of formed parts
burr free cutting
no finishing of the edges is required
accurate cutting along a marked line
single-side trimming is possible.
working speed up to max. 5 m./min.
clear view to scribed line or template
long life tool
easy, one hand, operation
simple and safe to use
can cause no injury while in motion
noise under limit regulations
almost no maintenance necessary
knife and jaws regrind able
parts are standardized and interchangeable
the metal-shear for U-C-L profiles up to 2 mm
new 500 watt motor
bend folded cable trays cutting in one operation.
even cutting of stainless steel cable trays without any problems (up to 1,5 mm / 18 ga.)
optional knife serrated for coated materials.
mitring cuts of cable trays possible
Also available:
Pneumatic: type 19/3520
12 volt cordless: type AK 3520 Ni-MH
18 volt cordless: type AK 3520 Li-Ion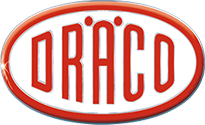 Since 1951, DRÄCO has been a partner to the trade and industry, clients require the same quality and service they expect of themselves. Quality products, quality control, customer feedback, and practical testing form the basis of their brand's philosophy.