The ergonomic Single Lock Hand Seamer K8NL closes the single seam.
Easy and fast closing roofs and facades thanks to the DRACO profile in profile system. This unique hinge mechanism ensures an ideal power transfer over the entire locking length and guarantees a perfectly closed seam through the tight pressure.
Moreover, it is ideal for start-up connections and hard-to-reach places, so wherever one can not get in with the electric tilting machines and still want to work quickly.
Sheet iron, aluminum, copper and zinc can be threaded to a thickness of 0.8 mm. In stainless steel the maximum thickness is 0.5 mm.
no scratch marks to coated or painted material
light in weight
ideal for starting or ending the seaming
easy to use
minimal force required
the tool can be used for closing vertical and horizontal seams
all parts are made of rust-free materials
anodized for hardness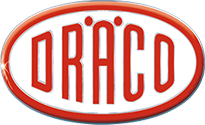 Since 1951, DRÄCO has been a partner to the trade and industry, clients require the same quality and service they expect of themselves. Quality products, quality control, customer feedback, and practical testing form the basis of their brand's philosophy.