Stainless steel expansion clip, top and bottom part assembled, 50 mm expansion.
With turn-up on the long hole for better stability and better sliding behavior on machine seams, consisting of a lower and upper part, completely assembled.
(400 Pieces per Package)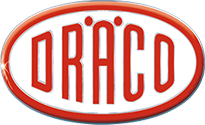 Since 1951, DRÄCO has been a partner to the trade and industry, clients require the same quality and service they expect of themselves. Quality products, quality control, customer feedback, and practical testing form the basis of their brand's philosophy.