Metal Slitting Shears S1001N-1
up to 1.3 mm of steel
Ideal shears for installation, air conditioning, ducting, aircraft manufacturing companies.
Cutting air ducts, sandwich board, making a cold bridge and a thousand and one other applications. Also ideal for cutting U-, C-, L-, and metal stud profiles (for reinforcement profiles see type 3515)
Knives and side knives can be reground. These light, compact and robust shears are used both in assembly and in mass production by means of linear guide systems can be used.
specific S1001N-1:
ideal for installations, air conditioning, ducting, aircraft manufacturing
for straight and curved patterns
stationary cutting in a vice possible
ideal for U-,C- and L- profile cutting cable trays and steel studs
an indispensable tool for any other applications
optional adjustable guide S/01 for straight cuts without marking a line
cuts without distortion or straightening of formed parts
burr free cutting
no finishing of the edges is required
accurate cutting along a marked line
single-side trimming is possible
working speed up to 9 m/min
cutting of U-,C- and L-profiles
clear view to scribed line or template
long life tool
easy, one hand, operation
noise under limit regulations
insulated and suppressed motor

Machine is also available:
– pneumatic, type 1913 and
– cordless tool, type AK 3013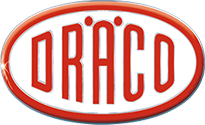 Since 1951, DRÄCO has been a partner to the trade and industry, clients require the same quality and service they expect of themselves. Quality products, quality control, customer feedback, and practical testing form the basis of their brand's philosophy.